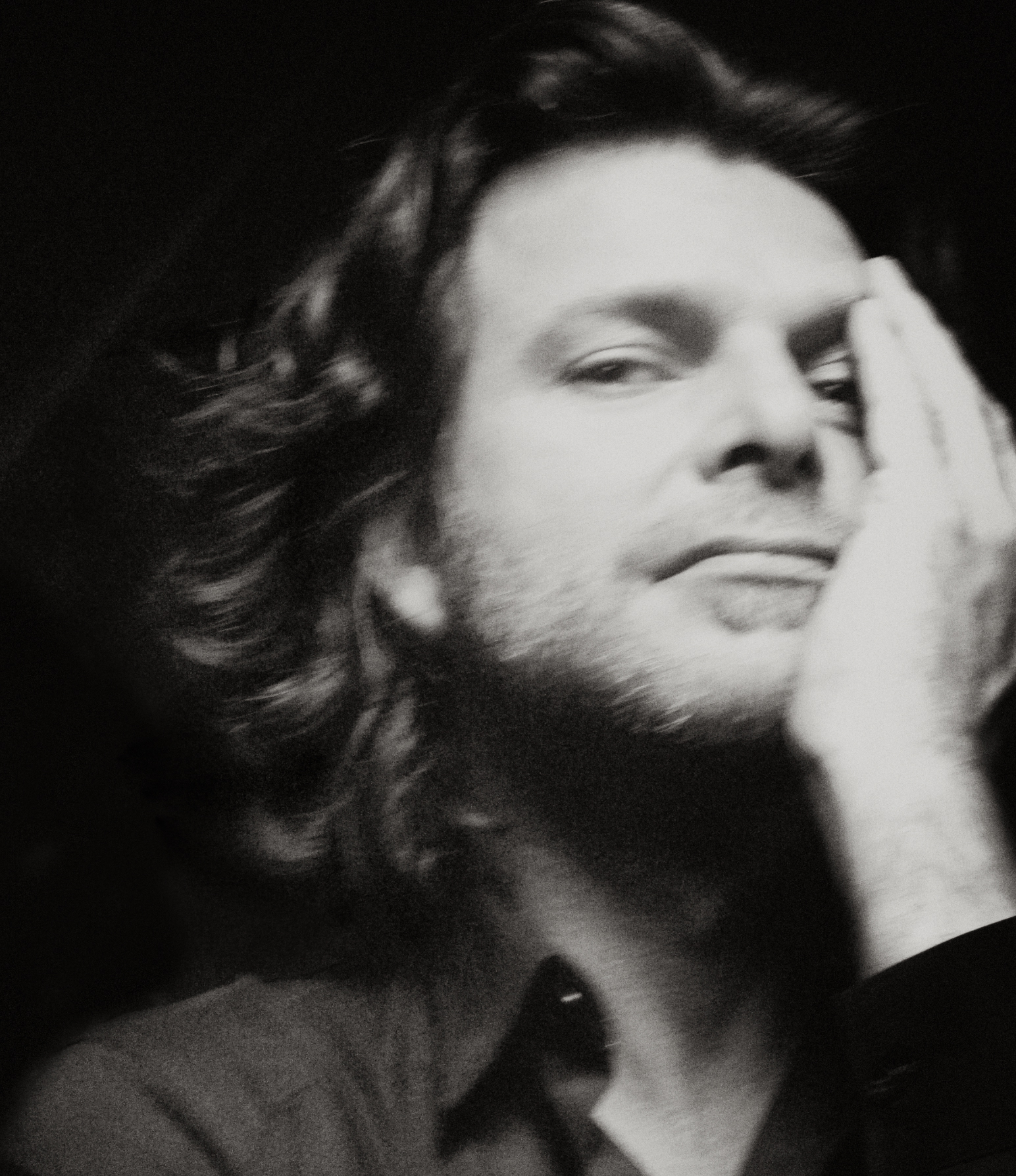 Born and raised in the beautiful surroundings of Quebec's Eastern Townships, Michel has always demonstrated an interest in people and a sense for the inner being.
In the early 80s, driven by his passion for photography, Michel worked alongside Quebec's top music celebrity photographer where his talent blossomed. He embarked on his solo career as a professional photographer in 1985 and his work soon caught the attention of advertising agencies and magazine editors.
In 1991, Michel launched Vertigo magazine, serving as senior editor and photographer until 1994. This venture let him showcase his work for agencies, designers and art directors across Canada, the UK and the US, and solidify his position as one of Montreal's most sought-after photographers.
His fascination for electronic imaging brought his talent to new levels, making him a pioneer in the then emerging field of digital photography. This expertise lead him to conduct workshops for photographers in 1994 and in 2005, Michel was invited by the Corporation des maîtres photographes du Québec to head a portrait photography conference. Michel has gained the respect and admiration of art directors and editors province wide, and his talents in post-production and retouching give him an edge over many fashion photographers.
His clients include Ballantine Scotch, BDC, Canada Post, CBC (print and television), Elle Magazine, Export A Extreme Sports Series, Ford, IMAX, Pepsi, and more, while special projects brought him to work with Cirque du Soleil, NHL Montreal Canadiens, to name a few. Michel has captured high-profile executives and celebrities on location, in Bueno Ares, Paris, Moscow, Shanghai, the Caribbean and throughout North America.
Today, as a highly recognized and accomplished photographer and artist, Michel's track record is nothing short of impressive. He has photographed the biggest names in Quebec music and fashion. His ability to capture the true essence of a person and transform it into brilliant images is widely lauded on the local artistic and commercial art scene.
"Showing people and looking at people in a different way is my great love. On a set I'm always searching for this magical mood that projects my subject's true personality and character."
Breaking down the barriers—perceived and real—that subjects erect around themselves is Michel Cloutier's forte, revealing the true nature of the person without any traces of his or her persona. It's a talent born of long experience and enabled by Michel's gentle, relaxed demeanor. His ability to develop a closeness with his subjects has catapulted him into the ranks of Quebec's top photographers.
Michel's work has won multiple awards, among them the Grand Prix LUX Canada in the Advertising category.
Positioning Statement
To all advertisers who need a turnkey photo service for their campaign, MICHEL CLOUTIER photography is a fashion, beauty and celebrity photographer that provides exceptional styling team, number one production coordinator, on time delivery and stunning images. Unlike other photographers in this field, our key differentiator is the way everything is going smoothly every step of the way and giving you a unique imaging created just for you.
Category: Published Portrait
Category: Unpublished Portrait - Serie
Category: Unpublished Portrait
My mentors, or how I became the photographer that I am
Since the very beginning of my career as a fashion, beauty and celebrity photographer, I can say that I have had two mentors who have marked me as an individual and who have undoubtedly changed the course of my life ! How lucky I was to have these two people on my way. Thanks to life !
Daniel Poulin, the Celebrity Photographer
Daniel Poulin was a celebrity photographer for whom I worked as an assistant in the early 80s. Daniel had the gift of making people feel comfortable as soon as they arrived at the studio and it was the same at my first meeting with him. Once I graduated in photography, I went to his studio to apply for a job. I had a list of 12 photographers for whom I wanted to work, that's all! I had to find or do not know what my life would have been without a job with one of them. The pressure to find that job was huge. After 2 attempts to meet him, I knock for the third time at the door of his studio on a winters day in a freezing cold minus 25 degree Celsius. From the back of his studio, I heard him shouting, "Come in" I almost had my arms shaking, I was so nervous, I had to make a good impression. Just before arriving at his third floor door, I had seen a retrospective of his career in images on the walls lined with covers of music albums of the greatest names in Quebec. I crossed the studio and head to his office carrying the portfolio of a young graduated in photography... you can imagine how this one could be hard-hitting ;-).
So I saw Daniel getting up and when I got near his office he shook my hand and BAAAM! No more stress, no more traces of nervousness, I felt just good! Daniel had this way of making people comfortable at the first handshake. You will tell me, only a handshake! My answer is yes! Without a doubt, Daniel won with confidence in all his years of passionate work and multiple encounters with the most famous Quebec showbiz artists.
Surrounded by giant posters of his work, frames, slide viewers all filled with images all stronger than each other, there was enough to break my neck. How impressed I was! We talked for a few minutes, Daniel telling me that my portfolio was very interesting, it was nice, and he was looking for an assistant. Wow! A door opens ... full of possibilities for me ... working with one of the greatest photographers in Montreal but ... there was a but, he already had someone in mind.
I asked him what it took to a good assistant to qualify and get the job. His answer was rather short but clear, to be organized, resourceful, discreet and to be INDISPENSABLE. I had to prove to him that I had these qualifiers and more. My response to his statement was, "I want this job and I'm going to make it happen", there are definitely subsidies that would allow me to get involved quickly, for you to see the quality of my work and evaluate my ability to deliver the job. "Give me two weeks and I'll get back to you with something," that I told him. Daniel looked at me with a smile, we shook hands again and I left his studio.
Once out of his studio, the ideas in my head went in all directions, where do I start? When I got home, I picked up the phone and called the Canadian Employment Office and ask the clerk, do you have any subsidies for an employer to hire me? The answer was NO. Everything is falling in my head ... but you should see with the Quebec Employment office, relief it's not over, there is still hope... I did not even know that an employment office existed in Quebec. So I called the Quebec employment office and, impatient to know if there are any employment subsidies, the officer stops me and says, "Start by answering the following three questions: How old are you? How long have you finished your studies? Have you graduated? "After answering his three questions, the answers was YES, we have a program called PIJE, Youth Business Integration Program. Thirteen weeks of paid wages, the time for the employer to see if you are doing the job. Becoming INDISPENSABLE suddenly came back to my head, I want him to keep me after the thirteen weeks. I want to give Daniel Poulin all this information for him to contact the office as soon as possible. The attendant stops me and asks me, are you registered in our office? Obviously, my answer was no. "So start by registering and we'll see what we can do." I was in a hurry, the job was available, there was someone else who could get it at any time, well before I could finish all these formalities.
I had to inform Daniel Poulin that I had found a subsidy and that he had to wait for me. Everything went backwards, normally it is the employer who contacts the employment office to find staff and there, I was the employee organizing the set-up, I wanted so much to get this job of assistant photographer. The one who had already taught me how to receive and put at ease anybody. After multiple conversations with the employment office, Daniel and I, I thought it was never going to happen, everything was upside down. Until the day the phone rang, I answered and I heard the voice of Daniel Poulin announcing that apparently I had a job... my first idea was that the employment office had found me a job for another company. But that's not what I want… and he goes on to tell me, "and yes! you start here on Monday ."
I got the job that made me a photographer, actually a photographer's assistant. What a joy, I was finally going to be in the big leagues and learn their secrets. I spent four years there :-) I did everything, to make me INDISPENSABLE he had told me ... I will not miss it, I told myself. I worked in the darkroom and did thousands of enlargements, photo editing by brush of course, no computers at this time, assistance during photo shoots, accounting, cleaning, painting and even moving the studio, I did everything and above all, learned everything, watched, listened, applied.
Thank you Daniel Poulin for your sharing, for this kindness to me, for allowing me to take an important step in my career. THANK YOU :-)
Lise Madore Is Entering in My Life
We were in 1994, I had been a self-employed photographer for over nine years now. One day, I was sitting at my desk and someone knocked on my door, it was a college photographer who had his studio just above mine. At the time the photographers were all in the same old industrial buildings where the cost per square foot was not expensive. He started and asked, "Do you know Lise Madore?" I said no, who is she? And he answered, "She is an artist's agent, she's the best in Montreal." Which photographer does not dream of having an agent to represent him? We continue the discussion and cannot help him so he left.
Upon his exit, I rushed to the phone and dialled the phone number of Lise Madore Artists Agent. Why not, he is a product photographer working with an 8X10 camera and I do fashion photography with my Hasselblad camera, in fact, the one Daniel Poulin gave me as a gift the previous year. There was no competition between us. She answered, hello here is Lise Madore in a soft voice. "I introduce myself, my name is Michel Cloutier and I am a photographer looking for an agent to represent me," I said, I was told that you are the best." She laughs and says, "It's nice." She asked me what kind of photo I was doing and I tell her that I'm a fashion photographer, she showed me immediately her interests to see my work, and asked me to meet her at the studio of one of her photographers the following week. Yes! I had an appointment with Lise Madore.
When I arrived at the studio, we made the usual presentations and she asked to see my portfolio. She looked, scanned, did not say a word, turned the pages and suddenly, "Where were you hiding?" She said. That's it ! I'm floating on a cloud, the best agent in Montreal was asking me that. WOW! It's started, for sure! At this moment I published a large format magazine "VERTIGO" to present my new work. Since 1991, four issues in total over three years and the fourth will be launched the following week, what a great opportunity to invite her to see my most recent work in large format and get to know the people in the field, fashion people, artists, collaborators, makeup artists, hair stylists, fashion stylists, radio and television media. I invited her to this event and she agreed, it was fantastic everything went very well and I trusted that everything will be fine for me, I could feel it.
The launch of the magazine was a big success and Lise was there, she also invited art directors that she introduced to me. I was so happy and always on my cloud and everything was fine. The next day I had to call her, I couldn't wait to hear what she had to say, did they appreciate? Are we going to work together? Team up and win all advertising assignments in Montreal. I called her, it's now, I was nervous, from my cloud, I could fall, I was afraid of the pain, I wanted to be part of her team of photographers, and they were all very good, I would become a very good photographer, like them with Lise Madore. She answered, "Hello Lise, it's Michel Cloutier, How are you? Did you like the launch, my work, will we work together? The answer; unfortunately, I had to make a choice and I will go with an other photographer. I fell from my cloud, the fall hurt, of course. What else would I have to do to convince her again that she would agree to work with me one day?
Two years, it took me, two years! It was during a photographer's meeting of our Canadian association, CAPIC that I meet Lise who asked me if she could see me, at my studio this time. Of course, that I answered and we fixed the meeting. Upon arrival, she looked at my studio, my most beautiful! Two thousand square feet, on a southwestern corner with 7 large windows, 7 feet wide by 12 feet high, the sun's rays hitting the 16-foot-wide cyclorama, hardwood floor and red brick walls, a bright and warm place. We sat down and she started talking. The photographer I choose two years ago is less available for the Montreal market and I need to replace him. Yes! I told myself. She continued, I'm ready to take you on my team but there are two conditions that must be fulfilled for it to work. I was listening carefully, 1. you move your studio closer to advertising agencies and 2. we will do creative photo shoots to adjust your portfolio to agency requests. Moving my studio I thought, make new pieces for the portfolio is very possible, but moving my studio, that one was tough, I felt as if my feet were in the concrete, I liked that studio and yes, I understood the request and it had to be done.
Six months later, I'm in a new studio, even more beautiful than the previous one, and I just handed my new portfolio to Lise. We were at the beginning of 1998, I was finally ready to work with her, she had my portfolio and started to presenting it to Montreal agencies. It took two weeks for me to do my first advertising campaign, magazine ads for La Crème du Québec, to reproduce the TV ads for print. Subsequently, the campaigns followed one after the other, La Chambre des Notaires du Québec, Desjardins, BDC - Canada Development Office, Via Rail, CBC - Canadian Broadcast Corporation television and so on.
Lise was one of those people who worked hard to prepare creative photos with her photographers and afterwards, goes to find the customer to whom this creative is addressed. She was a GO GETTER. We worked together on many projects to present, she made me redo several times to be certain that the customer would like, and she was right, every time she came back with an assignment on which I was going to work with my team. Her father was a photographer herself and she knew the picture like no other agent. I learned so many things with her, but the one that marked me the most is ANTICIPATION. Know how to take the picture, a fraction of a second before to capture the moment, the right moment.
Lise is now retired and I say thank you for having trusted me, for giving me my chance. A big thank you my beautiful Lise :-)